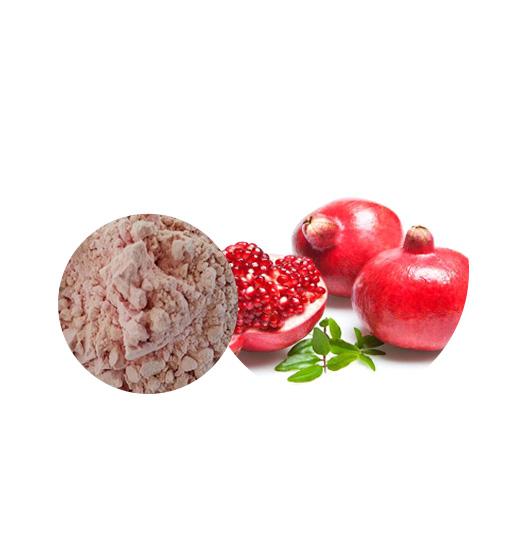 Organic Pomegranate Juice Powder
Laybio Natural is a wholesale bulk supplier of Organic Pomegranate Juice Powder.
Product Description:
The organic Pomegranate Juice Powder is an excellent source of potent antioxidants like flavonoids and polyphenols, vitamins C and K; and minerals like calcium, potassium, magnesium, and phosphorous. The Organic Pomegranate Juice Powder has a slightly tart and sweet fruity flavor, can be added to foods as a flavoring agent, or it can be mixed with water and drunk.
Specification
| | |
| --- | --- |
| Product Name | Organic Pomegranate Juice Powder |
| Botanical Source | Punica granatum L. |
| Part Used | Fruit |
| Appearance | Light Pink powder |
| Specification | Spray drying |
Product Functions
Anti-cancer and anti-mutation. It has been proved to be an effective anti-carcinogen upon carcinoma of rectum and colon, esophageal carcinoma, liver cancer, lung cancer, carcinoma of tongue and skin.
Restrain to human immunodeficiency virus (HIV) and many kinds of microbe and virus.
Antioxidant, coagulant, descenting blood pressure and sedation.
Treat kinds of symptoms caused by high blood sugar, hypertension.
Resist to atherosclerosis and tumour.
Resist to antioxidance, senescence inhibition and skin whitening.
Samples
20g-50g sample for free
Convenient DHL, EDEX, TNT and EMS service