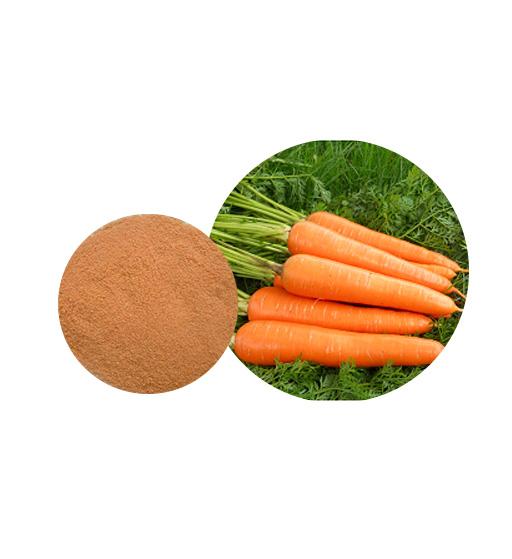 Laybio Natural is a wholesale bulk supplier of Organic Carrot Powder.
Product Description:
The Organic Carrot Powder is a root vegetable, usually orange in color, though purple, red, white, and yellow varieties exist. It has a crisp texture when fresh. The most commonly eaten part of a carrot is a taproot, although the greens are sometimes eaten as well. It is a domesticated form of the wild carrot Daucus carota, native to Europe and southwestern Asia. The domestic carrot has been selectively bred for its greatly enlarged and more palatable, less woody-textured edible taproot. Most Carrot Powder cultivars are about 88% water, 7% sugar, 1% protein, 1% fiber, 1% ash, and 0.2% fat.
Specification
| | |
| --- | --- |
| PRODUCT NAME | Organic Carrot Powder |
| ORIGIN OF PLANT | Daucus carota |
| APPEARANCE | Orange powder |
| SPECIFICATION | Air Dried |
| PART USED | Root |
Product Functions
Liver eyesight, detoxification, Touzhen, lower gas cough. 
For children with malnutrition, measles, night blindness, constipation, hypertension, gastro-intestinal discomfort, swelling and other full stuffiness. 
Improve blood circulation ischemic myocardium, scavenging oxygen free radicals.
Liver eyesight Lee diaphragm wide intestine and spleen in addition to rickets enhance immune function blood glucose and lipids can be used for stomach upset, constipation, night blindness (the role of vitamin A), measles, whooping cough, and other sy-mptoms of malnutrition in children. 
More suitable for hypertension, night blindness, dry eye patients, malnutrition, loss of appetite, rough skin.
Samples
20g-50g sample for free
Convenient DHL, FEDEX, TNT and EMS service