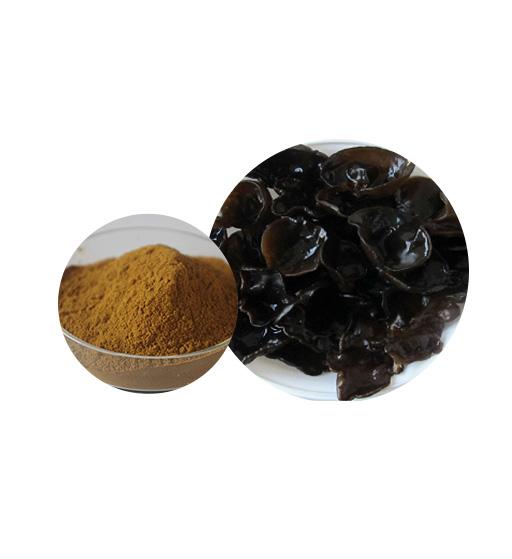 Organic Black Fungus Extract
Laybio Natural is a wholesale bulk supplier of Organic Black Fungus Extract.
Product Description:
Organic Black Fungus Extract Powder is made from Auriculariaauricula by soaking, disinfecting, rough selection, washing, dehydration, drying, crushing, etc. It is rich in carbohydrates, gums, cephalin, cellulose, glucose, xylose, lecithin, carotene, vitamin B1, vitamin B2, vitamin C, protein, iron, calcium, phosphorus and other nutrients. A kind of plant gum contained in fungus has strong adsorption force, which can concentrate and adsorb dust and impurities remaining in the human digestive system, and then excreted. This gum is mainly composed of black fungus polysaccharide. It can lower blood sugar, lower blood fat, anti-thrombosis, improve immunity, anti-aging, anti-ulcer and anti-radiation.
Specification
| | |
| --- | --- |
| PRODUCT NAME | Organic Black fungus Extract Powder |
| Botanical Source | Auriculariaauricula |
| Part Used | Mycelium or Fruiting body |
| Specification | 5:1,10:1,10%-30% Polysaccharides |
| Test Method | UV |
| Appearance | Off-white to Brown Yellow Fine Powder |
Function
Anticoagulant activity
Treatment for hemoptysis, angina, diarrhea
Cure hemorrhoids
To reduce blood sugar
Anti-aging
Anti-ulcer
Anti-radiation
Anti-thrombosis
Enhance immunity
Sample
20g-50g sample for free
Convenient DHL, FEDEX, UPS and EMS service