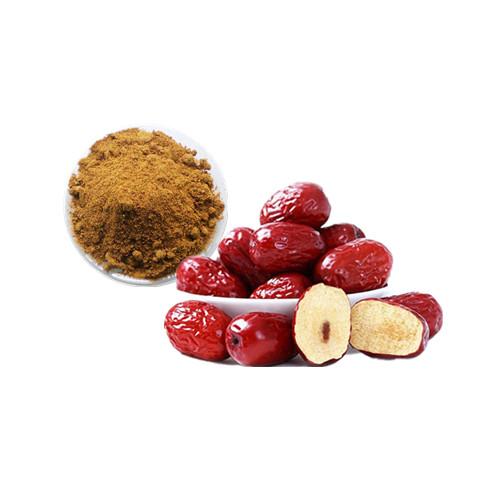 Laybio Natural is a wholesale bulk supplier of Jujube Powder
Product Description:
Jujube rich in protein, fat, sugar and carotene, B vitamins, vitamin C, vitamin P and calcium, phosphorus, iron and ring phosphoric acid adenosine nutrition ingredient and so on. By crushing, concentrating and spray drying etc, we make Jujube into Prue powder. 100% natural, free of any preservative, it contains most Red Date fiber, water-dispersible, can be used in food, drink, pharmaceutical fields etc
Specification
| | |
| --- | --- |
| PRODUCT NAME | Jujube powder |
| ORIGIN OF PLANT | Fructus Jujube |
| Part Used | Fruit |
| Sepcification | Spray drying |
| Appearance | Brown Yellow Powder |
Functions
Jujube Powder has been used since ancient times as a nutrient tonic, a blood cleanser, and as an important adjunctive herb to other tonics, especially in combination with Ginseng.
Jujube Powder is universally believed in the Asia to build strength and extend life. Jujube is slightly sedative and laxative and removes obstructions of the energy flow.
In combination with Ginseng, Jujube nourishes the spirit, acting to soothe irritability and mild emotional instability.
Sample
20g-50g sample for free
Convenient DHL, FEDEX, TNT and EMS service